Bone And Soft Tissue Grafting
---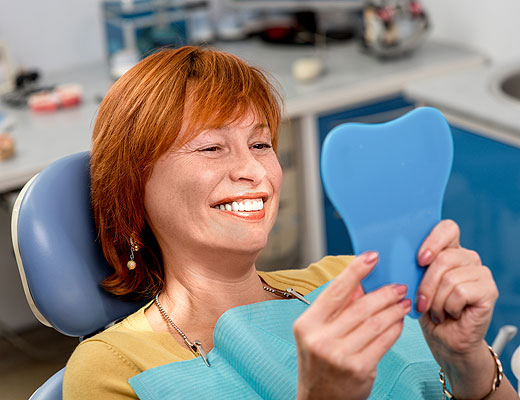 Bone and soft tissue grafting are more advanced dental procedures often done during smile restoration processes. At the office of Dr. Pete N. Mellas, DMD, we use the latest innovations and knowledge to ensure grafting is minimally invasive and effective.
Bone and Soft Tissue Grafting – A Closer Look
Both bone and gum tissue can degrade and deteriorate, especially when teeth are extracted. This results in a loss of much-needed soft tissue and bone, and, unfortunately, these structural changes can impede certain smile restoration treatments like dental implants. Further, loss of bone or gum tissue can also change the shape of the face. For example, an individual with gum tissue loss may see their lips sink inward, which can change both appearance and speech. Bone grafting and soft tissue grafting can address these types of issues.
What Is Bone Grafting?
Bone grafting is a type of surgery that involves implanting living bone in an area where it is needed. Bones used for grafting may be harvested from your body or may be sourced from a synthetic or natural bone substitute. Once the graft is in place, the tissue fuses and regenerates.
What Is Soft Tissue Grafting?
Similar to bone grafting, soft tissue grafting involves implanting soft tissue into an area to encourage regeneration. In dental care, soft tissue grafting is most often performed to restore gum tissue. For example, a graft may be used to encourage gum regeneration around a new implant.
Reasons Grafting May Be Recommended as Part of Your Treatment Process
All forms of grafting are performed when a patient has certain areas in the mouth that are deficient. For example, if a patient is looking to obtain dental implants, there has to be enough bone to support the implant. Otherwise, the implant can fail.
What to Expect During the Bone and Tissue Grafting Process
Bone and tissue grafting procedures involve removing small portions of bone or tissue from one area of the mouth and implanting that specimen in another.
While this can sound intimidating, the grafting process is relatively straightforward. Steps involved most often include:
Receiving local anesthetic medication to desensitize both treatment areas

The dentist creates an incision to harvest the healthy bone or tissue

The removed graft is placed in the desired location

Sutures are placed
After the grafting procedure, you will be given pain medicine as well as antibiotics to deter any risks of infection. Most patients are fine to return to their everyday schedule while the graft heals.
Work with an Experienced Scottsdale Dentist for Grafting Procedures
The success of grafting procedures relies on carrying out the process with keen attention every step of the way. At the office of Dr. Pete N. Mellas, DMD, that's just what we offer. Dr. Mellas has more than 25 years of experience, is a well-qualified periodontist, and offers exceptional patient care. If you would like to know more about bone and tissue grafting, reach out to our team to schedule an appointment.